Fire extinguishers
CO2 Extinguishers
Pressurized Water Extinguishers
Dry Chemical Powder Extinguishers (PQS)
Fire Extinguishers
ABC Powder Extinguishers
Fire Hoses
Industrial Hoses
Building Hoses
Traffic signs
Escape Route Plates
Fire and Fire Fighting Boards
Hydrant Accessories
Fire Extinguishers Shelter
Equipments Shelter
Hydrants Shelter
Fire Extinguishers Brackets
The AVCB should be considered by the trustee as an essential provision such as condo insurance. Or the document that authorizes the operation of commercial, industrial or similar activities. Extecil Santos gives full support to the client from the creation and implementation of the Fire Technical Project with the Fire Department, installation and maintenance of data protection systems and service to the obtention or revalidation of the AVCB.
Directed to the Life Saving sector, Extecil Santos hás its own structure to meet large number of life rafts simultaneously. In its internal working division in na área of 500m² there are modern equipments for immediate maintenance and inspection, as well as annual inspection service of the equipment sets, which is performed by a team of employees with high edicational level and dedication to the service.

Among the materials available in Extecil Santos portfólio, it's possible to be found pyrotechnical materials, life jackets, immersion suits, EPIRB, hydrostatic valves and life buoys. All equipments under standards control required by the authorities in Life Saving division.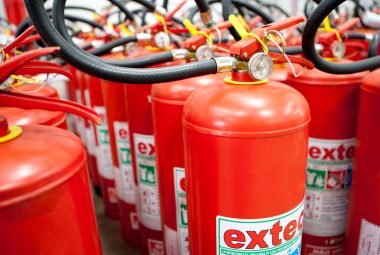 As a basin for security systems, Extecil Santos offers equipments in the ABNT standard, besides specific services for maintenance and refiling off ire extinguishers. In its own working division with na área os 1.300m², all operations are performed with precision and professional competence. The company also works with permanent service of fire fighting, with Fixed CO2 System, Dry Chemical and Mechanics Foam.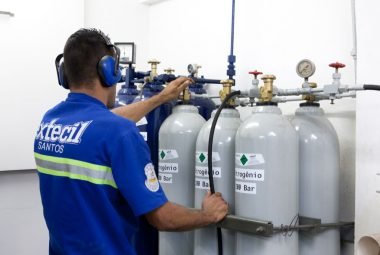 Ready to meet the domestic and external demand, Extecil Santos operates with experience and warranty serviçes for inspections, maintenance, refiling and EEBD Breathing apparatus testing, maintaining its own generateing unit of nitrogen and special system for CO2 storage. The company also operates with responsability at the refiling of Medical Oxygen cylinders.

To the refiling, production and storage of special pressurized gás storage, the company hás specific preparation and controlled actions to maintain accuracy in the compositions, as well as safety in preparation and handling of cylinders.

Equipped with exceptional buoyancy, stability and maneuverability quality, the lifeboats require strict controlo f inspection, which may be annual or quinquennial, depending on the pattern.

Extecil Santos hás the technical capability to perform all required inspections, repairs also in lifeboats and launching appliances, such as risers and brake systems, as well as load and overload testing to operate the equipment with the highest security requirements.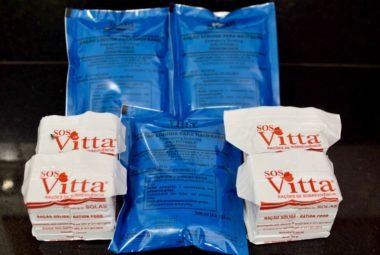 Food Ration

DPC. 097/2004 – 40 months validity – Approximate quantity 500g.

The Food Ration made by SOS VITTA through modern technology, is manufactures with highly selected ingredients, reaching for every 500 grams the value of 10.000kj, according to the prevailing legislations. It is approved by the Navy of Brazil in DPC. 097/2004.

Developed and produced in partnership with Cereal Chocotec, Institute of Food Technology – ITAL, and patented prescripition together with the National Institute for Industrial Property (INPI), it became one of the Best Survival Food Rations in the World.

Emergency Drink

DPC nº148/2007 – 40 months validity – approximate quantity 500ml (4x125ml)

The emergency drink ,amufactured by SOS VITTA passes through a rigorous filtering process, which provides the main features of the product class. Aprproved by the Navy of Brazil DPC, 148/2007, the Ration receive the certification of quality through periodic laboratory of its samples, physical to the chemical, bacteriologicaland portability analysis.

The package was approved with excellence through several tests, obtaining the Type A ration approval by the DPC, which provides its ownup to 36 high meters storage.