Recognized in the market for its services in the safety equipment trade, Extecil Santos brings three decades of experience in the industry service by providing structure and quality to custommers accredited by ISO 9001, certifications and international licenses.

With ongoing investments in technology and Professional development, Extecil Santos achieves distinction in the national market of Life Saving segment, lifeboats, fire extinguishers and compressed air and special gases.

Besides its specializations in Emergency ration Pack, being the only one in Brazil with the approval of the Navy for its own product with storage up to 36 meters.

Specializing in Marine and Insustrial sectors, Extecil Santos hás fixed and portable fire fighting systems,maintenance and inspection of life rafts, as well as the full range os equipment for safety.

Ensuring benefits is the fundamental criteria to offering products and safety equipment.
Know More
Our Services
The AVCB should be considered by the trustee as an essential provision such as condo insurance. Or the document that authorizes the operation of commercial, industrial or similar activities. Extecil Santos gives full support to the client from the creation and implementation of the Fire Technical Project with the Fire Department, installation and maintenance of data protection systems and service to the obtention or revalidation of the AVCB.
Directed to the Life Saving sector, Extecil Santos hás its own structure to meet large number of life rafts simultaneously. In its internal working division in na área of 500m² there are modern equipments for immediate maintenance and inspection, as well as annual inspection service of the equipment sets, which is performed by a team of employees with high edicational level and dedication to the service.

Among the materials available in Extecil Santos portfólio, it's possible to be found pyrotechnical materials, life jackets, immersion suits, EPIRB, hydrostatic valves and life buoys. All equipments under standards control required by the authorities in Life Saving division.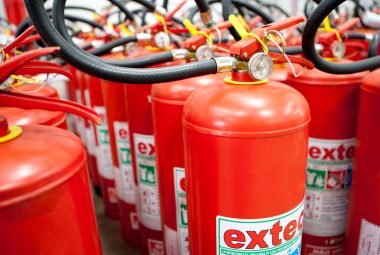 As a basin for security systems, Extecil Santos offers equipments in the ABNT standard, besides specific services for maintenance and refiling off ire extinguishers. In its own working division with na área os 1.300m², all operations are performed with precision and professional competence. The company also works with permanent service of fire fighting, with Fixed CO2 System, Dry Chemical and Mechanics Foam.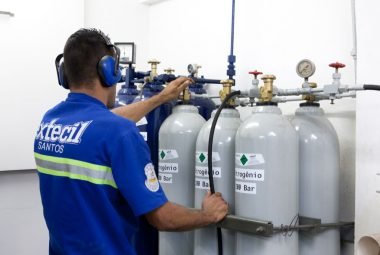 Ready to meet the domestic and external demand, Extecil Santos operates with experience and warranty serviçes for inspections, maintenance, refiling and EEBD Breathing apparatus testing, maintaining its own generateing unit of nitrogen and special system for CO2 storage. The company also operates with responsability at the refiling of Medical Oxygen cylinders.

To the refiling, production and storage of special pressurized gás storage, the company hás specific preparation and controlled actions to maintain accuracy in the compositions, as well as safety in preparation and handling of cylinders.

Equipped with exceptional buoyancy, stability and maneuverability quality, the lifeboats require strict controlo f inspection, which may be annual or quinquennial, depending on the pattern.

Extecil Santos hás the technical capability to perform all required inspections, repairs also in lifeboats and launching appliances, such as risers and brake systems, as well as load and overload testing to operate the equipment with the highest security requirements.